Here's a thread to celebrate/reminisce about the video games of yesteryear. Forget your Xbones and your Playstation 2, 3, 4. Forget your Angry Birds and your Minecrafts. Let's talk about your favorite arcade game. The entertainment systems of Nintendo. The genesis of Sega. The Colecovision and those watches that would have a built-in game to them.
--------------------
I'll go ahead and start by talking about the only two games I remember from the first game system in my home, the Intellivision.
Lock 'n' Chase
This game was essentially a knock off Pac-Man. You got to play as multiple players and there were a few other tweaks, like random locks showing up blocking pathways, but it was more or less the same. You also played as crooks evading the police and trying to steal the most money from a bank, so take that GTA.
------------
The second game, one I remember so fondly, and I'm sure would hold up so poorly, was

Masters of the Universe: The Power of He-Man
You got to be He-Man, and try to kick Skeletor's ass! You got to fly the Wind Raider! You got to sword fight! Castle Grayskull was there to be stormed! What's not to love?
Well... Here's Castle Grayskull: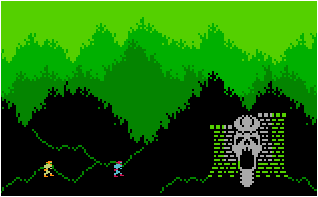 Threatening, eh?
Here's you dodging fireballs (maybe actually Skeletor's semen?) to get to the villain.
Here's you flying!
A little underwhelming? Perhaps. But flying after Skeletor is one of those video game memories etched into my brain.
Anyways, what are some of your earliest gaming memories?